All summer I've been following local (and local-ish) listings for 25′ to 35′ sailboats. Mostly sloops. All keel boats set up for cruising. I've pipe dreamed (and saved up) for years, but lately the [midlife] clock's tick-tick-ticking louder. I'm hoping that next summer (or possibly even this autumn?)  I will find a suitable vessel.
I'm trying to balance my research between the sort of sailboats that quicken my pulse and make me drool (like the custom Friendship 36 in the photo above), and more practical sailboats that would make more sense as "entry level" cruisers. In the latter category I've come across a 2002 Catalina 310 (named Da Capo) that seems to make a lot of sense but that offers a healthy dose of sizzle as well. And it just happens to be moored along one of my weekday bicycle routes…
Here's the information from sailboatlistings.com.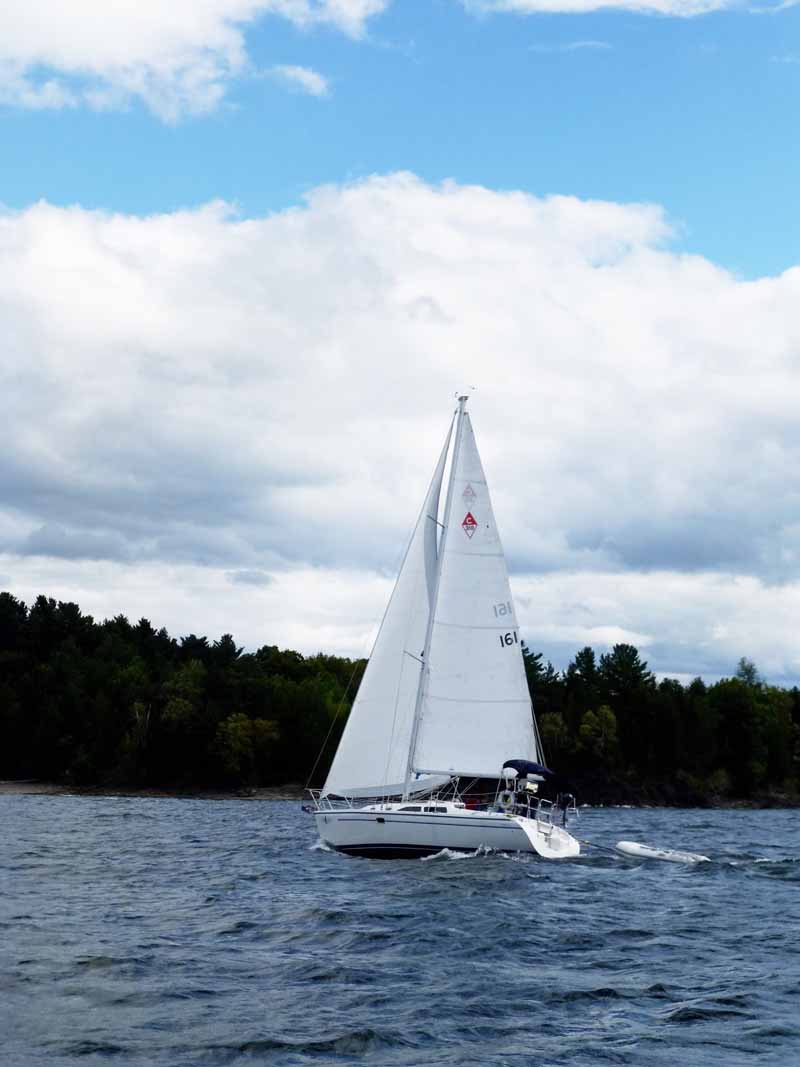 Description

:

Very powerful boat, easy to sail, it reaches is hull speed in 12 to 15 knots wind. The full batten main sail (equip with a Dutchman) is easy to adjust with a wide traveler. This sailboat had never see saltwater and was always sailed on Champlain Lake, and when we say sailed we mean it, the motor as more or less 250 hours on it (in and out of the marina). This boat can easily take 20 knots of wind before you start thinking of reefing. This boat was sold by Willsboro bay marina (Catalina dealer), was always hull in and out, winterized, and taken care by the professionals of this marina. Boat is register Canadian in bound.
Equipment

:
Full batten main sail
Genoi 135% with furler
Asymetric spy
Dutchman system on the mainsail, plus all the many equipment's coming with
the catalina packageWater capacity 55 gal
Fuel capacity 27 gal
Hot water capacity 6 galEngine Universal M25XP 26HP ~250 hours
2 Big battery 4D (2011)
1 starter battery (2011)
Auto pilot Raymarine X5 (2009)
ST60 depth
ST60 Speed
ST60 Wind
Magellan GPS and ChartplotterPropane stove & oven
Fridge
Microwave1 big aft berth (king sheets)
1 big front bert with real matress (new custom sheets (500 tread)Bimini
Cockpit cushions
Delta anchor, 15′ chain, 200′ cable
BBQ

The URL for this page is www.sailboatlistings.com/view/42777
This Catalina 310 Added 13-May-2014.