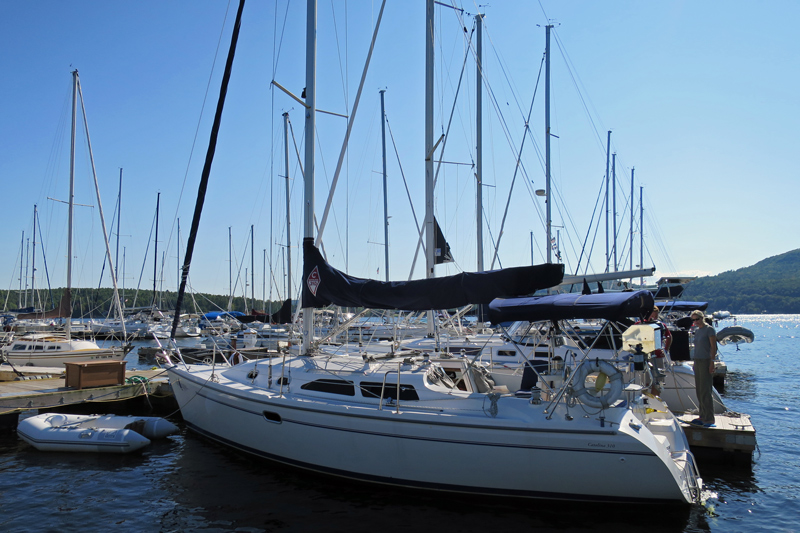 Up early this morning, excited and antsy. I've studied the photographs of Da Capo so much that I feel like I'm already familiar with the boat, as if visiting, boarding and poking around will be more like déjà vu than a first encounter.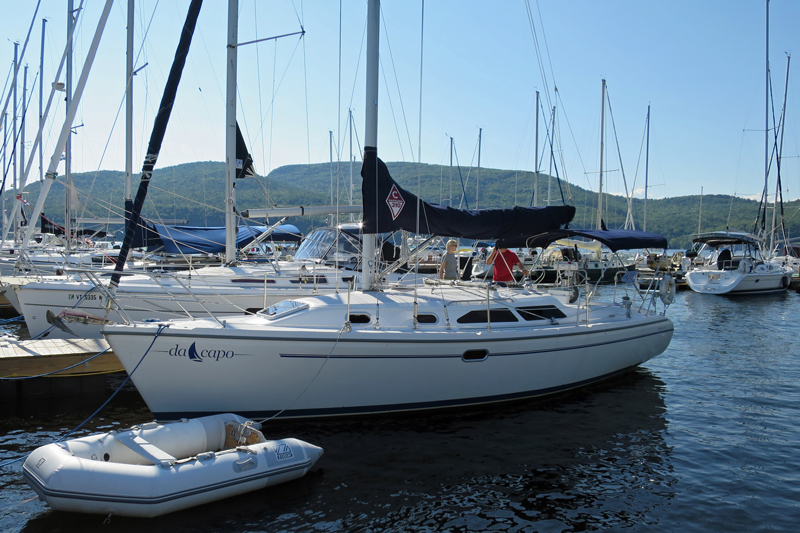 Willsboro Bay Marina
We drove to the Willsboro Bay Marina and parked. The seller had given me his slip number and directions from the parking lot, but I'd already stopped by the marina several times during bike rides to "spy" on Da Capo (as if gazing at her from different angles would help me discern whether or not she's the right sailboat for us.) I knew exactly where she was berthed, and now I could finally climb aboard.
We walked across the lawn between The Upper Deck restaurant and the dock where Da Capo is berthed. I pointed out the sailboat to my bride as we strolled down the dock busy with boat owners cleaning and polishing their sailboats.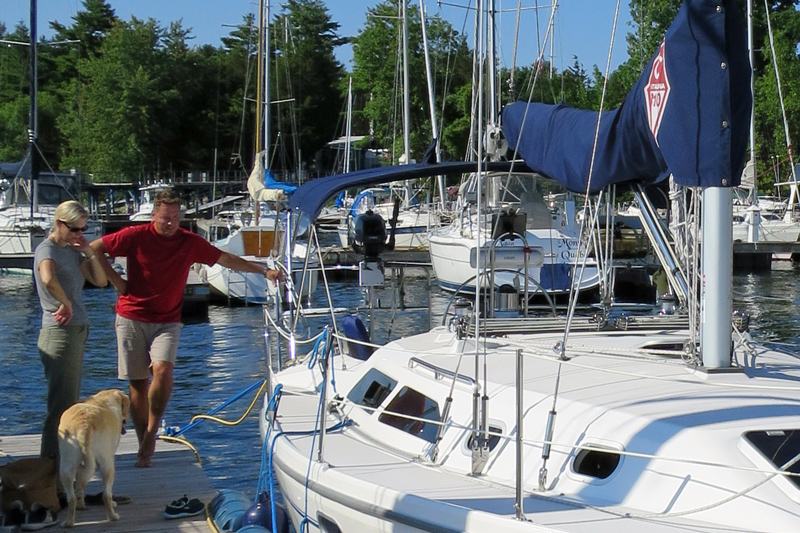 "Bonjour!" I greeted a man roughly my height and stature who had just finished hosing down the deck of Da Capo. We shook hands and exchanged pleasantries. I introduced my wife, and he introduced his wife or girlfriend. He was warm and endearing; she even more so.
I snapped some photographs of the exterior, noting some minor cosmetic gelcoat damage on the transom. And then I headed into the cockpit to poke around while Susan remained on the dock with Griffin our Labrador Retriever.
The cockpit and interior or Da Capo were exactly as photographed. No surprises. Even the ceiling height/clearance felt "familiar" from the photographs that I had spent so much time studying. The v-berth felt more ample that I expected, and the aft berth felt more or less as I'd anticipated: slightly claustrophobic due to the low ceiling. Although a portal into the cockpit can offers light and fresh air, and at night a hatch in the starboard cockpit seating can be raised to increase the natural light and airflow in to the aft berth. Despite the low ceiling, the length and width were ample.
I felt comfortable… I was able to stand bolt upright in the middle of the salon… [and] I felt comfortable enough standing and moving the v-berth too.
The salon was pleasantly bright and airy, and the galley was compact but efficient. I took no photographs at all inside the boat. The owner had well documented everything, so I focused instead on asking questions and opening/closing, lifting, snooping. If there were surprises I couldn't find them. And I felt comfortable. I had been concerned about ceiling heigh, about feeling cramped, about needing to stoop. This is certainly the case in parts of the cabin, but I was able to stand bolt upright in the middle of the salon without a problem. And I felt comfortable enough standing and moving the v-berth too.
The head was small, but I'd known this in advance. It was clean and well maintained with plenty of natural light and ventilation. The shower and toilet section would be a drippy mess if we ever showered aboard, but at least part of the head—the space with the sink—would remain dry.
I will attach the remaining  photographs (exterior + dinghy) in a gallery below, but long story short, the boat was immaculate, well proportioned and appealing.
We thanked the owner and—after chatting about boating on Lake Champlain, the pleasures of Essex and Montreal, the new Dufour the owner hopes to buy next, etc.—I promised to be in touch soon, and we departed.
As we walked back to the car I asked my bride for her reaction. She liked Da Capo, felt comfortable inside, and thought everything looked well maintained. She was positive though not effusive. She asked me what I thought, slightly warily, as if she was aware that I might be shifting away from "research with a goal to purchase a sailboat next summer" and toward a more accelerated timeline. Make an offer now?
This is the question that was in my head. But I demurred aside from expressing relief that there had been no surprises. I explained that I needed to mull it over. And I did. I was anxious to avoid getting swept up in the emotions and yearning and cartwheeling forward until I'd worked everything through.
On the one hand, I was smitten. I felt at home on the boat, thrilled with the condition, eager to sail it away. On the other, I knew that the price needed to come down, and I wasn't really ready to own a sailboat until next summer. I hadn't made any effort to line up dockage or winter storage, and summer was almost over. We had an autumn trip to France and Italy scheduled, so our boating season would be abbreviated. This wasn't the ideal time to purchase. I needed to think. A lot!