It's time for fresh bottom paint, so I checked in with Errant's previous owner to see what he had used. If it ain't broke don't fix it! He's always been a huge help, and my bottom paint question is no exception. Here's a screenshot from our exchange.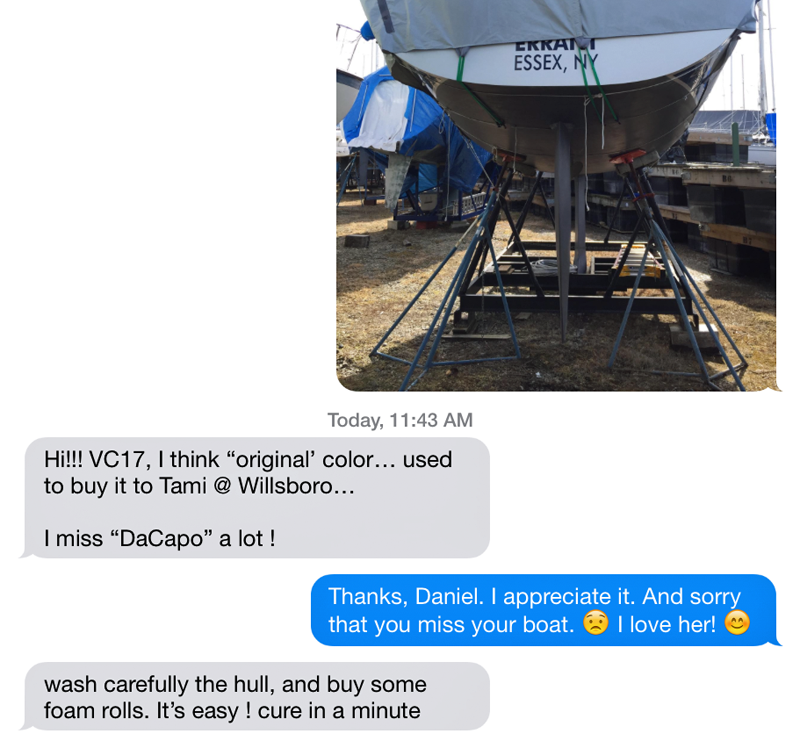 Some day he'll probably ask me to leave him alone, to stop bugging him with maintenance questions, etc. But until then, he's proven an amazing resource.
So, let's take a look at the product I'll be using to refresh the antifouling paint on Errant's bottom.
Interlux VC 17m Extra
VC 17m Extra with Biolux® is a thin film antifouling paint for racing sailboats and powerboats that is formulated with Fluoro microadditive to reduce friction and drag. When applied the VC®17m Extra will immediately give a hard, super smooth, racing finish that would normally take days of tiresome sanding. VC®17m Extra incorporates the Biolux® technology along with the metallic copper to achieve complete protection in freshwater or low fouling saltwater. VC®17m Extra is great for use on inflatables.

Thin film antifouling for racing sailboats and powerboats.
With Fluoro microadditive for a low friction surface.
Hard, smooth surface for use in fresh and low fouling salt water.
Great for use on Inflatables.
Quick drying for fast re-launch.
(Source: VC 17m Extra with Biolux Antifouling Boat Paint | Interlux)
Here's a video from one of the biggest purveyors of Interlux VC 17m Extra. (Helpful video, but I was pleased to discover that Willsboro Bay Marina sells Interlux VC 17m Extra in their ship's store, so I'll happily keep my business local. Thanks, Tami!)