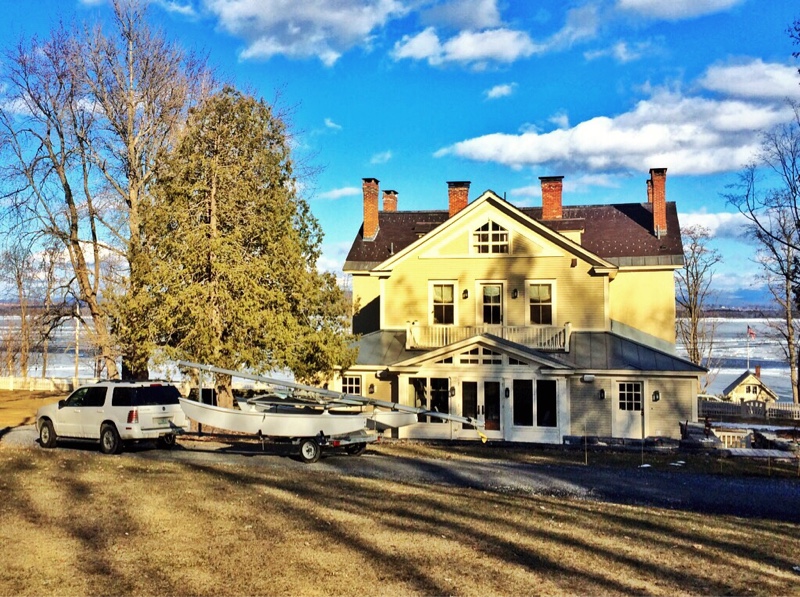 With spring launch around the corner and a half dozen "get Errant ready to splash and sail" projects already underway, I realized last week that it was time to focus.
Out with the old; in with the new. Out with a pair of aging Hobie Cat 16s , and in with a new-to-me Catalina 310. End of an era. Start of a new one!
I re-listed them on Craigslist, updating the information from a previous attempt to sell them last summer. Within 36 hours I had a half dozen inquiries. Three were ready to see the boats and make an offer. The first arrived Saturday. Sold!
So that photo above is "Good bye, Hobie Cat 16." He'll pick up the other one this coming weekend, although he wondered aloud if it might work to tow one behind the other. It might. But the NYS Troopers would likely consider it a ticket-worthy offense.
So, a poignant benchmark. But the time is right. Time to learn some big[ger] boat skills…
Here's the Craigslist advertisement.
2 Hobie Cat 16's with Trailers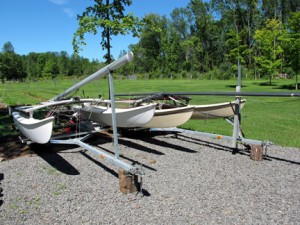 What's even better than a lightning fast Hobie Cat 16? Two dirt cheap, lightning fast Hobie Cat 16s!
So why am I selling them then? Too many toys, too little time, and a bride who would rather waterski…
Description
This is your chance to grab a 1978 Hobie Cat 16 AND a 1974 Hobie Cat 16. Both catamarans come with sails and 2006 Karavan trailers. And lots of spare parts including trapeze, "dogbones", etc.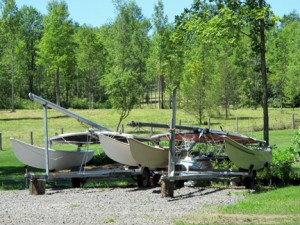 But there's a caveat… If you want to sail both boats, you'll need a couple of replacement parts.
I've had the white Hobie Cat 16 for about a dozen years. I've flown hulls, won races, and generally had a blast with it. It's FAST! Or, it was fast… I banged it up during a small craft advisory when I shouldn't have been sailing solo (too much wind), and it bent/dented the mast slightly and broke the rudder assembly. After taking inventory of the damage and preparing to order replacement parts I spied the tan Hobie Cat 16 for sale locally. So I bought it.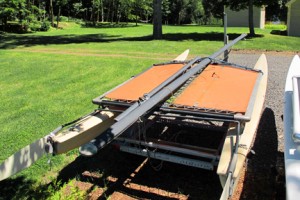 My plan was to cherry pick the best parts from both catamarans and assemble them into a better-than-new (or at least cheaper and faster than new) "time machine" to blast around Lake Champlain. But 3-4 years have piled up and I haven't had time to tackle the project. So, I'm going to sell the catamarans which will make my bride happy. Unless they don't sell quickly and I start tinkering… 😉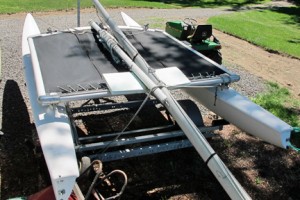 The bottom line is, I want to sell both Hobie Cat 16s together along with both reliable, new-ish (2006) trailers, ready for the road. You can combine (use the mast and rudder assembly from the tan H16 on the white H16) the two, or you can fix the broken rudder assembly and repair/replace the mast, giving you two inexpensive and VERY fast catamarans.
Value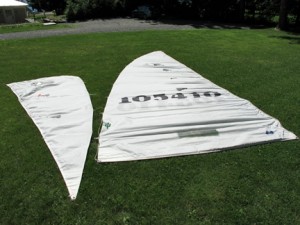 Priceless! If you have the time… 😉 Basically, I'd suggest you search Craigslist and eBay for other comparable Hobie Cat 16 sailboats with trailers. Prices usually range from about $750 (for 1970s to 1980s fixer uppers in poor to marginal condition) to around $1,500 (for water-ready, moderate to good boats with trailers) and big piles of cash for newer, race-ready cats. Of course, you won't usually find the new H16s for sale because, well, for the same reason many of us have hung onto the older catamarans. They take very little maintenance, are easy to store, guarantee a ton-o'-fun every time you head out, and… let's be honest, because they're liquid rockets!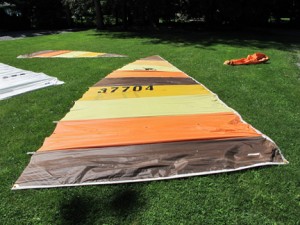 I'm asking $1,600 OBO (or best offer) for everything (both H16s, both trailers, and all sails, parts, etc.) If you'd like to make an offer (or have something cool to trade like an aluminum utility trailer or a load of cedar/locust fence posts), feel free to contact me. But make it reasonable. If you don't hear back from me, your offer was too low (or your trade wasn't enticing enough!) If you're in the ballpark, I'll either accept or counter-offer.
Condition
The condition of these Hobie Cat 16s is a mixed bag. (See the description above.) By repairing/replacing a couple of parts you can have two complete catamarans. Or, by combining both, you can have one complete catamaran with a spare trailer and spare hulls, spare sails, spare parts. As for the 2006 Karavan trailers, they're still in super condition with nominal time on the road.
Note
I've included all relevant information to the best of my ability, but you can also search Google for "Hobie Cat 16" for additional details, wild stories, known problems, maintenance/repair advice, etc.