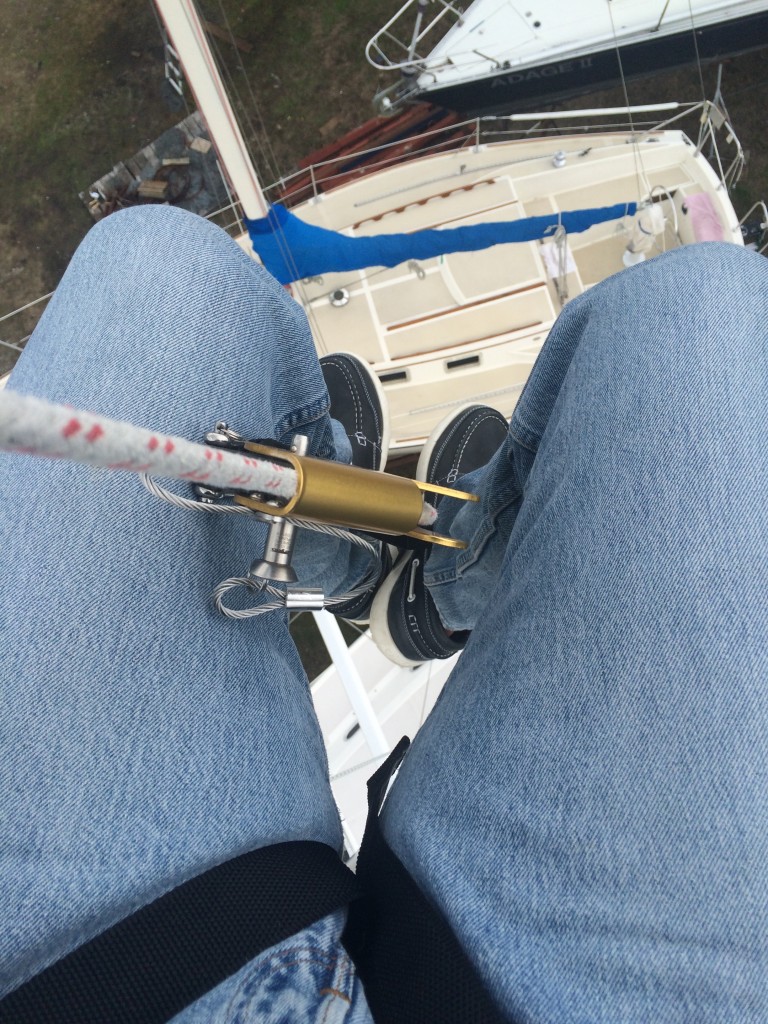 Sloppy manufacturing… [is hopeful not] not what I will experience when my ATN Mastclimber arrives next week. As with the other potential concerns addressed above, I will offer a personal review once I've gone aloft. Successfully. I hope… (ATN Mastclimber)
Okay, I have to admit that I'm still feeling that tingly, slightly electric feeling in my bones. All of them. Even though I've been down from the mast for a few hours. That's the "bad news".
The "good news" is that the ATN Mastclimber is an impressive piece of equipment. It seems well built; none of the obvious ATN Mastclimber quality concerns I cited in previous post. And it works! I was able to ascend like an "inchworm" all the way to the tippy top of the mast to recover the top of the roller-furler which gravity had stolen last autumn.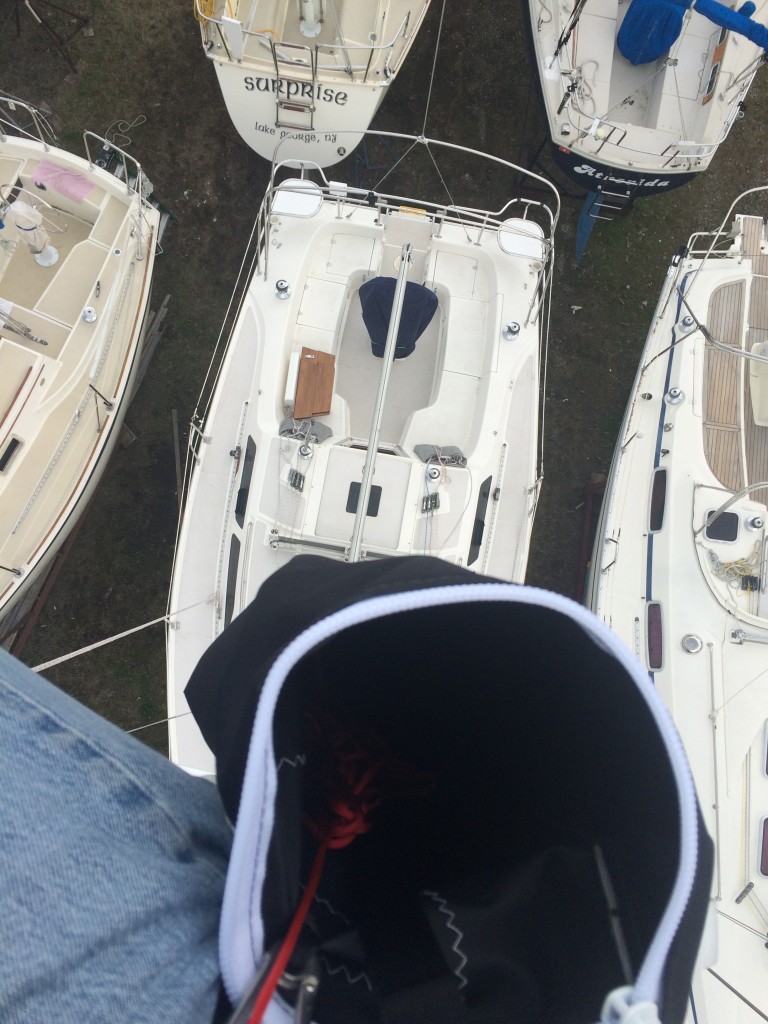 I won't pretend that the experience was enjoyable enough to repeat for fun, but there was a certain thrill (laced with primal fear) that helped propel my cloud-ward. And while ascending isn't necessarily easy, it's not nearly as difficult as some other reviewers have suggested. Once I got the hang of the ascenders and fell into a rhythm, I was able to reach the top of the mast relatively quickly. Of course the omnipresent awareness that I could plunge to my demise served as a useful motivator!
But while ascending proved easier and quicker than I anticipated, descending proved slower and considerably more awkward than I anticipated. Several times I descended too far on my upper (harness) ascender, making it it tricky to release my foot ascender. And vice versa. In these cases it was necessary to slide one or the other ascender back up slightly. Aggravating. And slow.
But I did get the hang of it, and I did successfully accomplish my task atop the mast and then return safe and sound to the deck. That, after all, is the bottom line.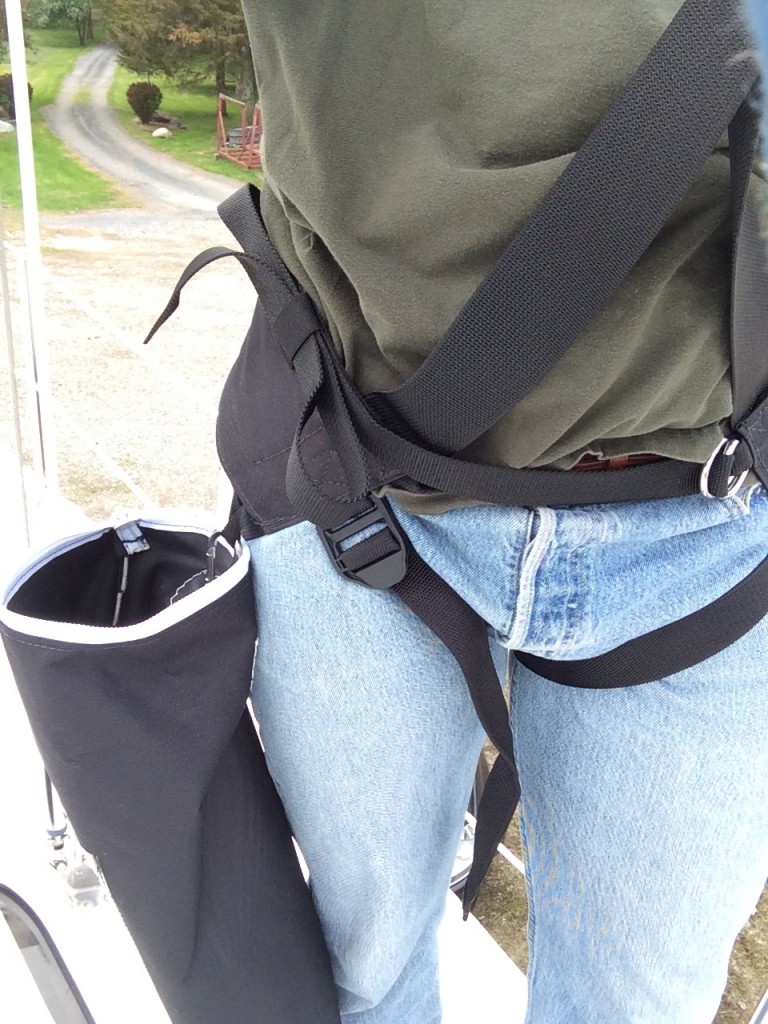 In general the seat and harness are more comfortable than I expected. They are sturdy and super secure. Tight webbing wrapped around my groin isn't exactly the sort of experience I savor, but I'd rather feel secure than comfy when going up the mast. And the ATN Mastclimber's storage bag which doubles as a gear/tool bag is a good idea, but a less-than-perfect compromise. It has to be large (long) enough to accommodate the rigid swing seat, but this then makes it slightly deeper than ideal. Locating items at the bottom while working at the top requires a bit more effort than ideal. But it works. And it's sturdy. And it is attached to the harness with solid hardware.
So what about the ATN Mastclimber concerns that I discovered while researching this tool?
Construction Quality Concerns
As I mentioned above, I am confident that the workmanship is good. Yes, it's premature to judge the quality construction. No, this is not my final and last word. But I carefully examined the harness, seat, ascenders/hardware, and stitching before entrusting my life and limbs to the ATN Mastclimber. I would not have gone up the mast unless I felt confident that it was well built. And I would not have kept it after making my initial ascent if anything gave me cause for concern. I would have shipped it back and requested a refund. I didn't. I stowed it for the next time I have to go aloft.
Mast Damage Concerns
I mentioned previously that some reviewers expressed concerns about the ATN Mastclimber causing damage to the mast. I can verify that there are indeed abrasive edges that could gauge or scrape the mast. Knowing this in advance I was able to avoid contact between the ascenders and the mast. No damage. But I was on the hard, and there was virtually no wind. I can easily imagine a scenario where the variables are increased and the mast might endure damage.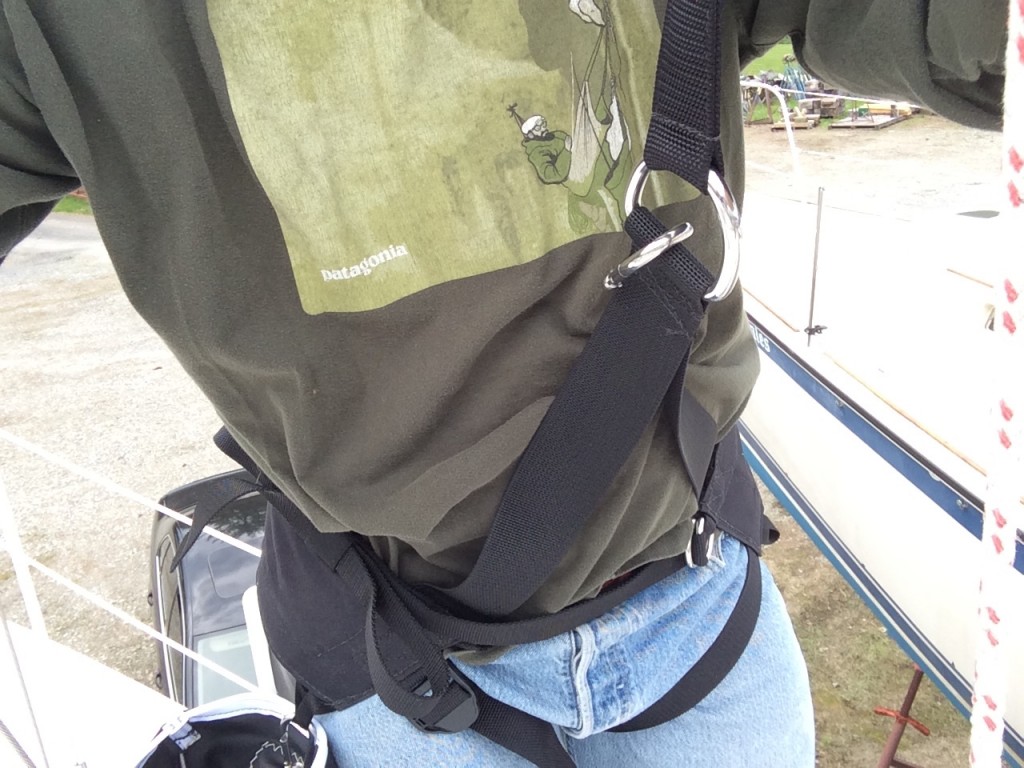 I wondered beforehand if it would be easy or difficult to use the ATN Mastclimber. Easy or exercise? Both. In all honesty, it takes some doing, especially descending, but if you're fit enough to sail, I suspect you're fit enough to propel yourself aloft with the ATN Mastclimber. Just save some energy for the descent…
Another takeaway involves the potential wear and tear on the halyards. The teeth in the ascenders' jammers/breaks abrade the line, no way around it. Observing this from on high at roughly the same time I discovered an especially worn section of my halyard triggered a line of reflection still ongoing: how can I develop a convenient and reliable backup? I'm wondering about a grigri on a secondary halyard. Research ongoing, and I'll share my experience when the time comes.
At the very least, my venture aloft with the ATN Mastclimber definitely highlighted the value of replacing my halyards. ASAP!