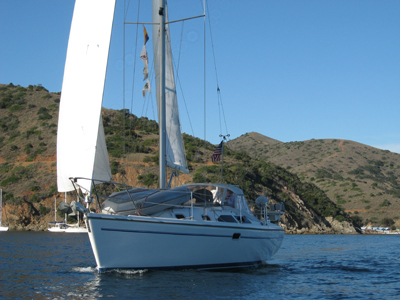 Early in my research on the Catalina 310 I came across an invaluable review on Talk of the Dock. I've quoted the most pertinent sections below to help me in my decision making.
Catalina Yachts' chief designer, Gerry Douglas, introduced the Catalina 310 in 1999 and well over 300 hulls were built through 2008 when the design was discontinued.  Unapologetically optimized for a couple, the 310 was a departure from other brands of this size as it didn't make any promises it couldn't keep – it's a very functional boat for two. (talkofthedock.com)
My bride and I are footloose and childfree, so a cruiser "unapologetically optimized for a couple" sounds just about perfect! Let's take a closer look at what "functional" means in the case of the Catalina 310.
The shrouds terminate on the cabintop leaving 18" wide decks for easy movement fore and aft. (talkofthedock.com)
Given that this is not a huge vessel, a design that optimizes access and ensures convenient and safe traffic fore and aft, especially under sail, is a bonus in a market/size when overly compact can result in tricky topside navigation.
Four self-tailing Lewmar winches – two primaries and two on the coachroof manage the lines – all of which are led aft for easy single handing. (talkofthedock.com)
The romantic current pulling me forward in this sailboat quest is a dream of single handing slowly around the globe. One day. My bride is petrified that I will perish on a tiny sailboat in the middle of a huge ocean with a rogue super-wave swallowing me up. She doesn't like to talk about it. Instead I focus on the short term value of being able to sail solo around Lake Champlain: no pressure on her to join me if she'd rather windsurf/waterski/yoga…
My passion for sailing is at least partly rooted in a lifelong appetite for independence and autonomy. So every sailboat I'm considering needs to be designed with single handing in mind.
[The Catalina 310] sails well in light air.  On a beam reach, she'll do 6.0- 6.5 knots in 12-15 knots of breeze and like most cruising boats, will need to be reefed when winds exceed 17 knots… the Catalina 310 reportedly sails just as well and stayed dryer than either a Hunter 326 or a Beneteau 311. (talkofthedock.com)
I'm a Beneteau fan. I like that this boat is solid and comfortable but can potentially outsold the Beneteau 311. Infantile? Maybe. But honest.
(And note to self: I need to learn more about reefing. In most of my sailing up until this point, big wind, small craft advisories, lots of sail, and speeed have been the goal. But the stakes were lower. Less rigging to break…)
Catalina cockpits are renowned and the 310 is no exception.  This cockpit will easily accommodate eight for cocktails, especially with two perched on the stern rail seats.  Access is easy via the walk-through transom… (talkofthedock.com)
This will appeal to my bride. So far her primary (only?) interest in owning a cruiser involves entertaining. Picnics. Cocktails. Eight snug guests might be just the ticket to entice her. And the walk-through transom — aside from being an aesthetic that appeals to me — is a practical solution for a water-loving Labrador Retriever and two equally water-loving young nieces plus two now-teenage-but-still-water-loving nephews.
Below is where the Catalina 310 really shines for two.  Although a family with small children or the occasional guest can be accommodated in the aft berth, this boat is really built for a couple due to its open floor plan… Having few real separations, the boat provides an airy and generous space for two rather than a cramped and compartmentalized boat for four. (talkofthedock.com)
Sounds perfect! Now if I can just talk my bride into exploring Lake Champlain and sleeping on the hook…
The review ends on an especially high note, pivoting from the value of big boat utility and convenience packed into a 31′ pocket cruiser to the value of a liquid asset that appears to be holding stronger than most.
Catalina 310s are listing for $75,000 – $80,000 on Yachtworld and originally they were around $85,000.  Now that's a powerful statement in a world of depreciating assets. (talkofthedock.com)
According to the Internet Archive Wayback Machine this review was published on December 5, 2012, but the assessment has held up throughout my research. I find this pretty reassuring, especially since this is my maiden voyage into larger sailboat ownership. I'd love to be able to offset my exuberance with at least a modicum of prudence!